The all three regions of Jammu, Kashmir and Ladakh are dotted with numerous trekking sites and these sites offer immense opportunities for activity like camping in Kashmir. The destinations like Pahalgam, Aru, Chandanwari, Gulmarg, Sonmarg, Baisaran, Yusmarg, Sanasar, Patnitop, Ladakh region are the ideal places to experience camping on the lap of beautiful nature. Some of the popular camping sites in Kashmir are: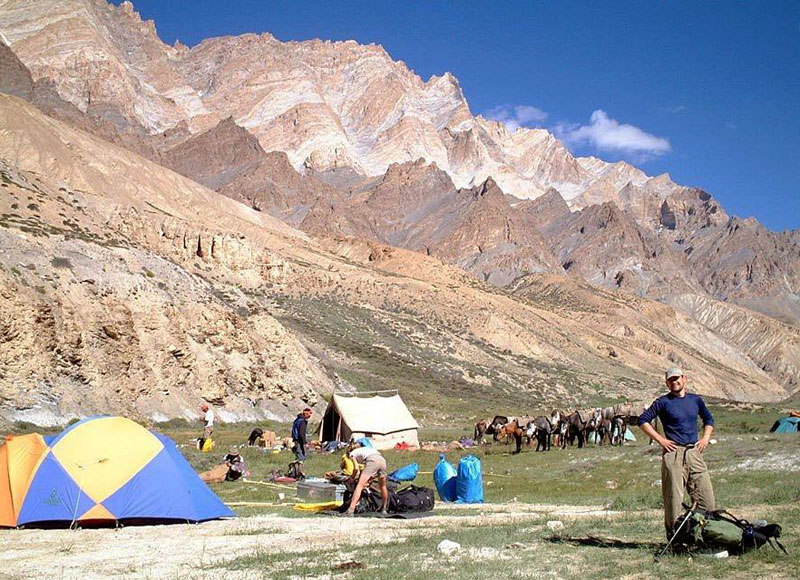 1. Sonmarg, Nichinni, Vishansar, Gadsar, Gangabal, Narang (Kashmir Region)
2. Pahalgam, Aru, Lidderwat, Kolahoi, Chandanwari (Kashmir Region)
3. Manasbal Lake (Kashmir Region)
4. Sanasar, Patnitop, Kud (Jammu Region)
5. Tsomoriri Lake, Tso Kar, Nubra Valley, Pangong Lake, Shargol (Ladakh Region)
Most of the trekking sites, pony riding routes are suitable for camping. The sparse population on mountains means you can easily camp on any place especially if the site maintains a safe distance from slopes, rivers & lakes and avalanche-prone areas.
Though camping gear is available everywhere, personal items like wearable's, food and other essentials should meet your expectations. Carry a spare of each item and a few medicines, glucose, a pair of torches, water, a mobile and a sleeping bag. Being self-sufficient will always help in case of emergencies.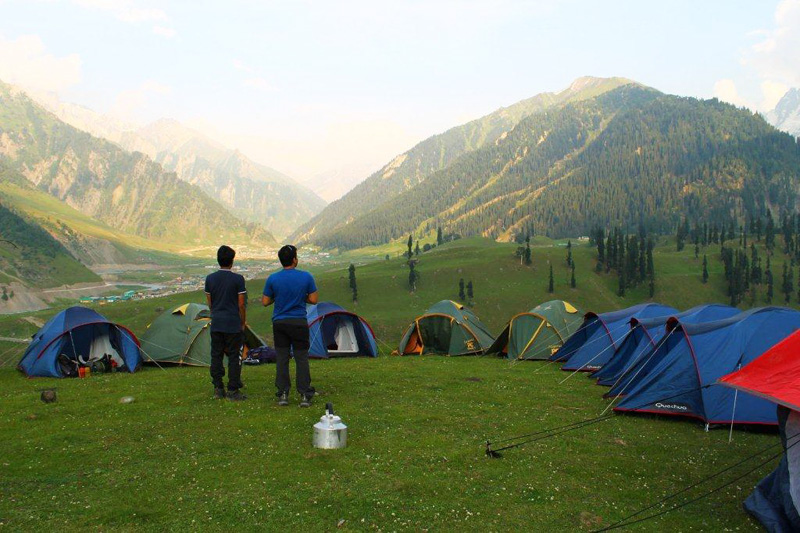 Camping Tips
Usually there are many people who travel together for camping. Though everyone has the essentials prescribed by the tour operator, it is better if you can carry small tidbits not everyone can think of. Try picking some of these along with:
Mint Lozenges High altitudes can congest some chests at night. Mint or menthol lozenges can come handy.
An extra Lamp Though tour operators have everything on them, and organize a camp fire at night but an extra lamp can enliven your spot especially after the fire has died out.
Glucose Tabs Sometimes high altitudes make you nauseate and you don't eat. Popping a couple of glucose tabs helps maintain energy.
Antacid Tab/Liquid The cook's food on the tour may not suit everyone resulting in bloating. Antacid pouch/tablet/liquid is easy to carry and easily help from breaking the overall tour.
Fine Sewing Needle Thorns and bushes may pierce awkwardly on our skin. Removing them is necessary else it can mar your entire day. A fine needle comes handy. By chance if any dress is torn, a sewing needle at least can help you tide over the situation.
Activities in Jammu & Kashmir
THINGS TO DO