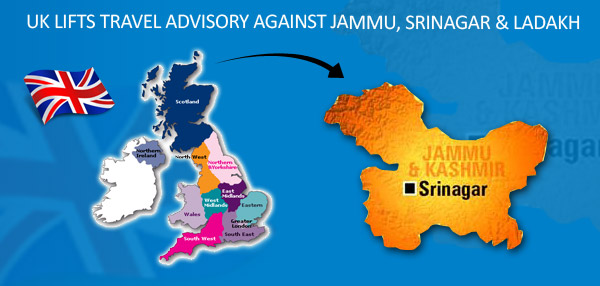 The revival of tourism in the state of Jammu and Kashmir has encouraged United Kingdom to take a major decision to lift its negative travel advisory against traveling to Jammu, Srinagar and Ladakh. On Tuesday, UK has lifted the 2 decades long advisory to its citizen, which earlier restricts them from visiting the state commonly known as 'The Heaven on earth' for its endless natural beauty. The UK is the third foreign country to lift the advisory for Kashmir after Germany and Japan.
As of now, advisory has been lifted only for Jammu, Srinagar, travel between the two cities through Jammu-Srinagar Highway and Ladakh. According to the Official Press Officer in the UK High Commission, "advisory against traveling to rest of the state was still in place." "We advise against all travel in the immediate vicinity of the border with Pakistan, other than Wagah Border," the advisory added.
British High Commission Sir James Bevan in a letter to Chief Minister of Jammu & Kashmir Omar Abdullah, said that improvement in the situation has led them to lift the advisory against the said places. He has expressed confidence that this step will encourage tourists from UK in large numbers to visit the valley, which will in turn help in boosting local economy.
The negative travel advisories against the visit to Jammu and Kashmir were imposed by various foreign countries after the upheaval of militancy in the state during 1989. And finally, lifting of these will surely restore the inflow of high end foreign tourists and consequently, flourish the economic sector of the state.