Indian Railways made history as its pilot train chugged through Asia's second longest tunnel. The tunnel cuts through the Pir Panjal mountain range connecting Jammu and Kashmir, providing the valley a further step in getting connected with the rest of India.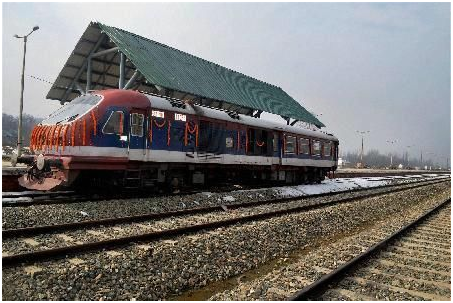 The train on a trial run arrived at Banihal station from Qazigund in Anantnag district of Kashmir. The 11.21 km tunnel has reduced the distance between the two towns by half.  The train pulled in at the station amidst thunderous applause from the people, who had assembled there to witness the historic achievement of the Indian railways. Service is slated to start from March 2013 and the extension to join the railway link to rest of India shall be completed by 2017.
The The Pir Panjal tunnel constructed is an engineering marvel. It is 8.40 metres wide with a height of 7.39 metres.  There is a provision of a three metre wide road along the length of the tunnel for the purpose of maintenance and emergency relief.
It will be a helpful boon to the locals and multitude of tourists that make the journey as the Srinagar – Jammu Highway is regularly closed due to heavy snowfall and rain in winter months. The train will enhance services provided to locals and will provide an alternative route for commutation with rest of India, Which should In the long term lead to overall development of in Kashmir in all major areas