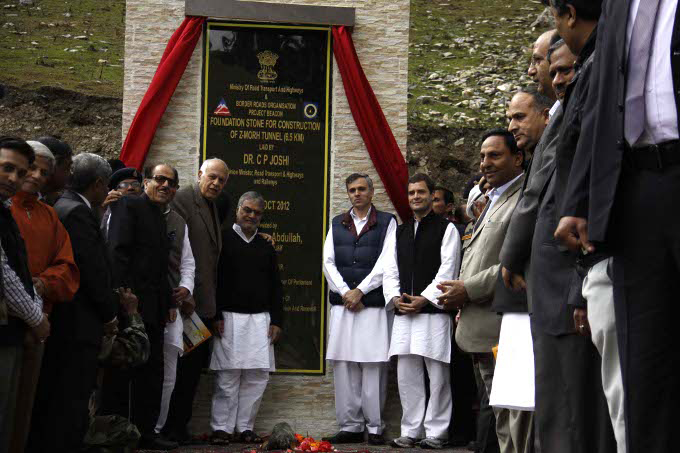 Sonmarg Oct.4 (ANI): The Z-Morh tunnel coming up on the Srinagar- Leh National Highway is the first of the two tunnels which will ensure all-weather connectivity between the Kashmir Valley and Ladakh. The 6.5 km long two-lane tunnel and a parallel 6.5 km long escape tunnel will come up on a new alignment between Gagangir and Sonamarg. Congress general secretary Rahul Gandhi lays the foundation stone of the tunnel today.
Army officer M.C Tiwari told reporters in Sonamarg district on Wednesday that the tunnel is considered to be the lifeline for the survival of people of Ladakh, as the routes remain completely cut off for six to seven months during winter due to heavy snowfall and avalanches.
This tunnel would be convenient for the army as well as military as during snowfall we face lot of problems to move our convoys from one place to another. We have to put a halt on its movement as the roads get blocked. This is a border area and militancy is also there, therefore, we want that the tunnel should be constructed as soon as possible and for that we need support of the people of the state. The Border Road Organisation is working under difficult conditions," said Tiwari.
The tunnel would also boost tourism in Sonamarg and adjacent areas. Besides enhancing the safety of the road users, the construction of tunnel would also provide the employment to the local labourers.
A driver, Bilal, said the tunnel would facilitate smooth communication of people and vehicles. "The tunnel will benefit us especially during snowfall. It will facilitate smooth communication and movement of people and vehicles," said Bilal.
improved all-weather road connectivity would enhance industrial growth and local economic activities in villages, towns and urban and semi-urban areas falling in or situated close to the project highway.
The Ministry of Road Transport and Highways, Government of India has entrusted the implementation of this project to Border Road Organisation (BRO). (ANI)
Source: ANI
Photo Courtesy: Tehelka