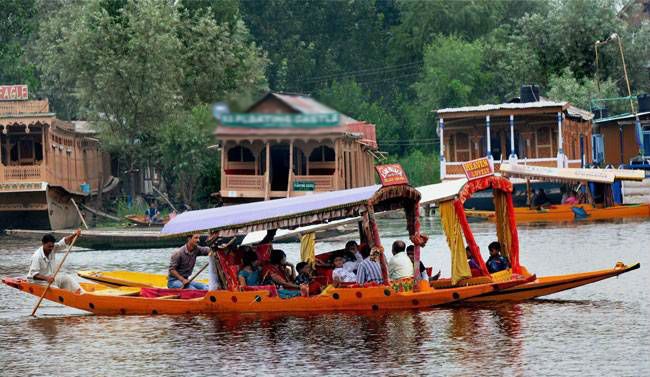 The otherwise stagnant tourism industry of Jammu & Kashmir saw a leaping revival as tourist activity reaches its maximum in over two decades. KashmirHills.com brings you the complete story.
The "Paradise on Earth" is having a 2012 tourism season it will never forget. After a nondescript performance for close to twenty years, the tourism industry has revived so vigorously that from locals to industry watchers, everyone is stumped. The rush is increasing with each passing day, and hotels are running to full capacity. According to some estimates, tourist rush this year is at least five times higher than last year's figures.
For many years Kashmir has been a taboo for tourists because of militancy and conflict. The recent spell of peace has prompted the European nations to lift the advisory against visiting Kashmir. As a result, the Lonely Planet Magazine voted Kashmir as the most preferred travel destination in India, and over 700,000 tourists have already visited the state this summer. The figure is expected to climb to 2.5 million by the time the season ends. Those waking up to this attraction late are having to regret. Apparently there are no spare hotel rooms in Kashmir, and all trains and flights are overbooked. Historical places like Lal Chowk, Pahalgam, Gulmarg, Sonmarg, Srinagar, Dal Lake are chock-a-block with tourists, with every nook and corner full of activity.
Although there are other tourism-heavy states like Himachal Pradesh, and Uttarakhand, they are not untouched by the merciless heat waves of 2012 summer. For Indian and foreign tourists longing for picturesque natural beauty and cold climes, Kashmir is offering the best value of time and money.
The government too is very impressed. The tourism minister Nawang Rigzin Jora commented, "In the history of Kashmir, we have not witnessed so many tourists." As a result, long-term loans are being provided to locals among fifty designated villages, which are to be converted into guest houses. Apparently the Valley is going to be extremely busy this summer.
But this huge inflow of tourists might come at a cost of Himachal Pradesh, which until now had seen booming tourism business owing to militancy problems in Kashmir. The current season is lean as compared to last years, and in places like Dharamshala hotel rooms are reportedly running under capacity. However, the overall picture is still not pessimistic.
For Kashmir, though, this is a golden run that has come after a long time. Even as the infrastructure comes under strain, the tourism boom brings a new hope for tourists and the state alike.
This release is developed and published by KashmirTourism.org.