River rafting, more often called the White Water Rafting is a popular sport in Kashmir & Leh. Armed with life-jackets and helmets tourists in large numbers opt for this thrilling sport. Anyone above 12 years of age wearing tight clothes is allowed to have a go. Only those people suffering either from blood pressure or asthma are advised to keep away! Tourists make it a point of trying at least once whenever they come in this valley of paradise.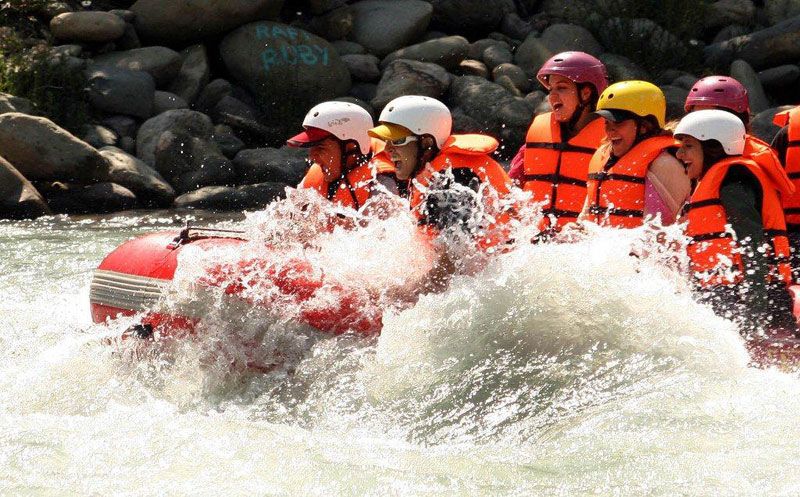 The thrill of riding an inflated boat, the different sitting postures (compared with normal boats), the left jackets, helmets, the chilled water sprinkled around and getting wet … is an experience of a lifetime. No matter what the cost, getting firsthand experience is what one cherishes about!
Tour operators often have multiple options ideal for beginners and intermediates. The course ranges from 3-8 kilometers and take anywhere from 30 minutes to an hour. Experienced campaigners can always take their own decisions.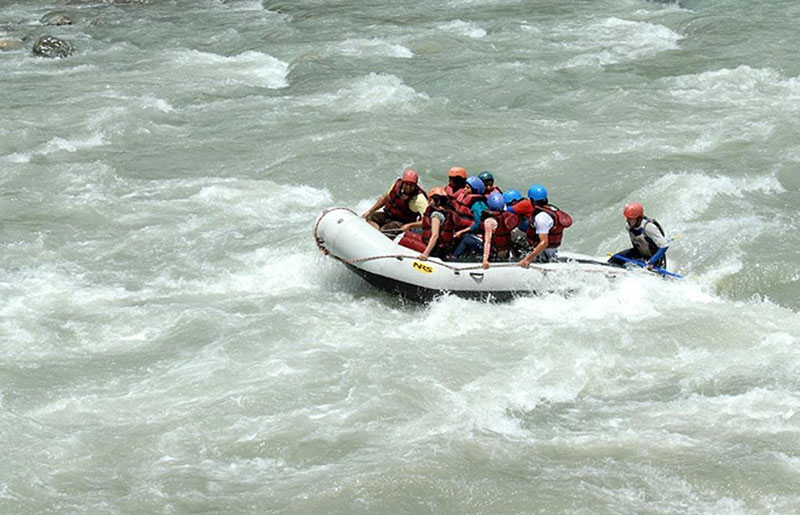 The certain stretches of Lidder River (Pahalgam) have gentle gradient of water which are more suitable for beginners. The grading scale of Indus River at Sonmarg is upto 4 that offers a challenging spot for the expert rafters. River rafting experience in Ladakh is quiet unique in its river such as Indus River, Suru River and Zanskar. While the Spituk to Karu stretch of Indus River is the most ideal spot for beginners, Zanskar offers the most challenging spot in stretch from Padum to Nimu.
White Water Rafting Seasons
Rafting is possible only when rivers flow freely. Hence this adventure sport is best experienced from April to September. Once the water volume recedes this rafting sport ends for the season.
Rafting Options
It is a thrilling sport no doubt but different packages make the choice attractive. Beginners can opt for short-distances like 2-3 km whereas others who either have done it earlier (intermediates) or are seasoned can choose for distances above 8 km.
| | |
| --- | --- |
| Pahalgam Rafting Centers | Distance covered |
| Varganpal to YaneerBride | 2.5 km |
| Varganpal to Ganeshpora | 5 km |
| Langabal to Ganeshpora | 8 km |
| Sonamarg (Sindh River) | 3.5 km |
| Sonamarg (Sindh River) | 7 km |
| Sonamarg (Sindh River) | 24 km |
These are the broad demarcations. The tour operators also agree to conduct the tours within specific monetary limits or distances, as per tourist convenience.
Rafting Timings
Due to seasonal variations and Kashmir Tourism directives, two different timeframes are allotted which the tour operators stick to:
| | | |
| --- | --- | --- |
| Pahalgam | 20th April to June | 9 am to 6 pm |
| Pahalgam | July to end September | 8 am to 7 pm |
| Sonamarg | 1st April to end June | 9 am to 6 pm |
| Sonamarg | July to end September | 8 am to 7 pm |
Service Charges
The charges are high for singles and moderate for groups (4, 6, 8 people) when the operator can use a bigger raft. The rates are prescribed by the Tourism Department. The charge also depends on the distance covered.
Current Rates Approximately (Singles)
Rs 500/- per person for 5 km
Rs 800/- per person for 8 km
Rs 1,200/- per person for 12 km
Rates for Groups (Approximately)

Rs 1,500 for 4 persons for 4 km
Rs 1,900 for 6 persons for 6 km
Enquire for availability for distances above 6 km.
Inclusions
Every raft has a head coach and assistant coach.
Helmets
Change Room
First Aid
Life jackets are provided.
Compulsory
Above 12 years of age
Tight clothes (No Sari),
Shoes, and
Not suffering either from Asthama or Blood Pressure.
Activities in Jammu & Kashmir
THINGS TO DO