Ice skating has a totally different meaning in Kashmir. There are no fixed locations or grounds but almost unending frozen rivers that delight every ice skater. Frozen rivers and rivulets in winter present immense scopes for adventure tourism in Kashmir, of which ice skating is one of its kind.
Winters in Kashmir valley are thrilling as the minimum temperature drop below freezing point. During winters, lakes of the valley transform into the sheer sheet of ice. Outdoor skating rinks are set up in frozen lakes and valleys of Gulmarg, Pahalgam, Leh and Kargil in Kashmir where the skating lovers can assemble to either participate in the regional and national level competition or simply enjoy some fun times.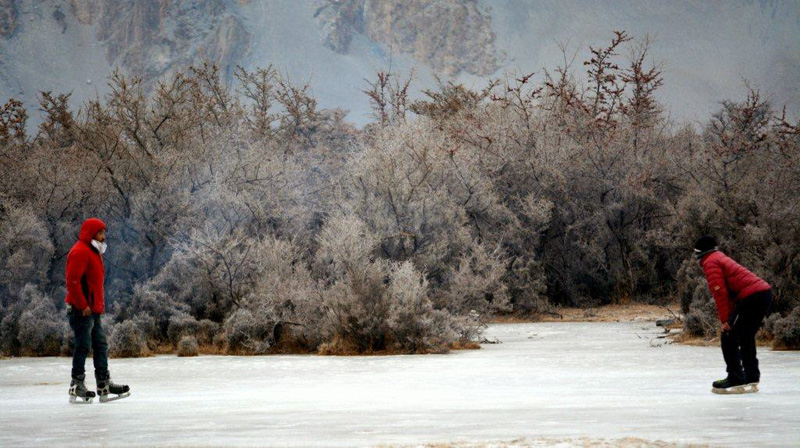 The months of January and February are the best time to enjoy the ice-skating activity in the valley of Kashmir. Skating lovers can get their own equipments for skating or else can hire from local shops at reasonable rates.
Ice skating is anything but easy. Most tourists try aping the seasoned villagers and often make fun of themselves. Since the majority of the visitors are first timers, they don't mind either slipping or falling because of the fun quotient. Only after falling a couple of times they get the hang of it and even a few meters of skating gives them immense joy!
National Ice Skating Championship
At Srinagar the Ice Skating Association of India organizes the National Ice Skating Championship in January each year. As soon as rivers start freezing, tourists should look for the first opportunity to start training for the event.

Ice Skating Rink at Gulmarg
For Ice Skating & Ice Hockey buffs, there is an Ice Skating Rink right at the heart of Gulmarg town near the cable car station.
Ice Skating Rink at Nunwan, Pahalgam
Pahalgam recently had its first Ice Skating Rink in May, 2016. Constructed at a cost of Rs 3.0 Crores, it has a roof with complete infrastructure like lights. It will have night skating facility also which will attract tourists in large numbers. Now Pahalgam too, will be an all-season tourist destination.
Ice Skating Tips For Beginners
Unlike skiing, ice skating basically means standing on blades, fitted beneath your shoes. This is totally different from anything you have experienced before. For your benefit we offer these timely tips.
Stretchable Leggings Tight jeans are not suitable. Have flexible trousers that allow easy limb movement especially when losing balance.
Look at the Blades they should fit snugly beneath the shoes. The shoes you choose should be tight, even if they squeak you are good to go.
Have some support while standing on the skating shoes. Once you get the feel, step onto the skating rink and stay at the boundary. Using support, try taking a full circle and only when confident, take baby steps. Do not rush as a slip would mean injury. Ice is rock hard and you can easily break bones, so beware.
Balance Start working on balance. Use your arms to balance. Bend your knees slightly and lean forward. You shouldn't be able to see your toes. Move forward slowly. Eventually, speed will help you keep your balance but not quite yet.
Falling It will happen. If you can anticipate the fall, bend your knees and move into a squat position. When you put your hands down to break your fall, keep them in a fist. You don't want to lose a finger to a passing skater.

Getting up Beginners don't venture into the center. You can always ask your friends/relatives to throw a shawl you can catch and slide out else wait for someone to push you to the periphery.
Best Learner Tip
Bent knees, upright torso and heads up is the best posture for beginners. Avoid the natural tendency to slouch or bend forward to look down at the ice as it leads to falls.
Best Tips for Skating on Frozen Rivers
Always carry a nylon string bundle along. In case you cannot get up after a fall, you can throw it to the onlookers asking them to slide you off.
When beginning, do not slide too far away from others.
Activities in Jammu & Kashmir
THINGS TO DO