+91 9716108811
THINGS TO DO IN YUSMARG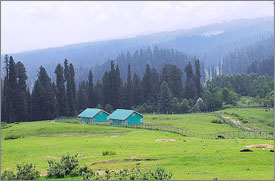 Trekking to Nilnag Lake, Sang e Safed, Tatta Kutti mountain ranges, Tosa Maidan.
Picnic in Yusmarg meadow, Doodh Ganga, Nilnag.
Pony ride in and around Yusmarg. The ponywallas in Yousmarg have quite reasonable charges for a ride compared to other destinations.
Sightseeing in Charar-e-Sharif, Sang E Safed valley, Nilnag Lake, Dhoodh Ganga River.
Trout fishing in Doodh Ganga River.
Yusmarg Tour Packages
More About Yusmarg
THINGS TO DO