The Snow Leopard is the primary predator in high altitude areas of Jammu and Kashmir, India. Seen along the snow line, the Snow Leopard is not easily noticed because of its effective camouflage. The Snow Leopard's fur is a thick silvery gray which helps it conceal itself along the snowline and the rocks of the mountains, which are its natural habitat. The black rosettes and spots help the Snow Leopard blend into areas of sunlight and shadow and hide more effectively while stalking its prey.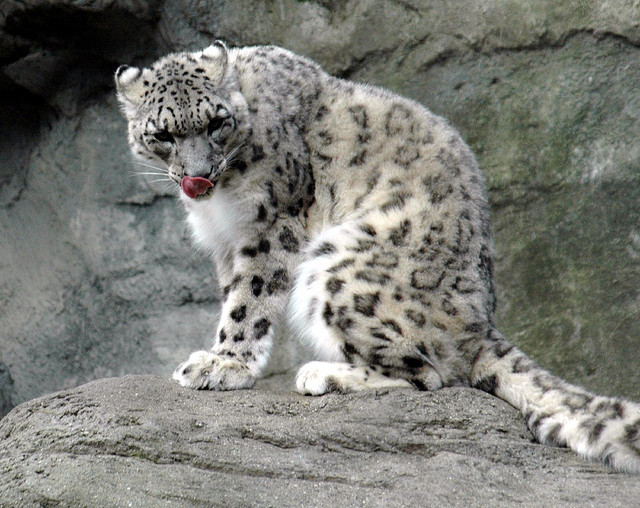 Zoological name: Uncea uncea
Range: The Snow Leopard can be seen in the Dachigam National Park in Srinagar in Jammu and Kashmir, on wildlife tours with Kashmir Tourism. The Snow Leopard lives in the high altitude regions of Jammu and Kashmir in regions over 3200 meters. It is also found in other Himalayan states of India and in high altitude areas in Nepal, Tibet, Bhutan, China and Central Asia. Snow Leopards prefer to live along the snow line in summer. In winter they come down to pine forests and grassy meadows in search of prey and a less harsh environment.
Appearance and behavior: The snow leopard is a handsome animal with a thick coat of silvery fur marked with black spots. The underbelly and chest are white and the fur is longer to protect it from the snow beneath. It has stocky limbs and huge paws, which give it a stable grip on the slippery snow-covered ground and rocky ridges. A Snow Leopard can be 7 feet long; this includes its 3-foot tail. It is usually 2 feet tall and weighs between 25 and 40 Kg.
Snow Leopards are good climbers and stalkers. They are normally found alone except for small groups of a mother Snow Leopard with her cubs. Cubs usually become independent after a year of living with their mothers. A mother leopard normally has 1-3 cubs. Snow Leopards are the primary predator in high altitude areas and stalk and hunt wild sheep, mountain goats, deer, rabbits, hares, marmots, and birds such as pheasant and partridges. Snow Leopards usually hunt in twilight or at night and sleep through the day therefore minimizing their chances of being seen.
Population: Worldwide there may be 4500 – 7350 Snow Leopards. The wide range of this estimate is due to the difficulty in gathering data because of the mountainous terrain in which the Snow Leopard lives. Snow Leopards are under threat from poachers who hunt them for their attractive fur even through Snow Leopards are an endangered and hence protected species in India. You can see the magnificent Snow Leopard in the Dachigam Wildlife Sanctuary in Jammu and Kashmir on Kashmir wildlife tours with Kashmir Tourism.
Popular Wild Animals
Wildlife Sanctuaries